Augmented Reality (AR) is one of the most impressive and growing technologies of 2021. With an audience of 810 million active AR users on mobile, the potential engagement that can be captured by AR features and products cannot be understated (Statista, March 2021). When it comes to complex apps that incorporate 3D graphics, advanced functionality and innovative technologies like AR, the development process can seem like a hopelessly tangled web of complexity.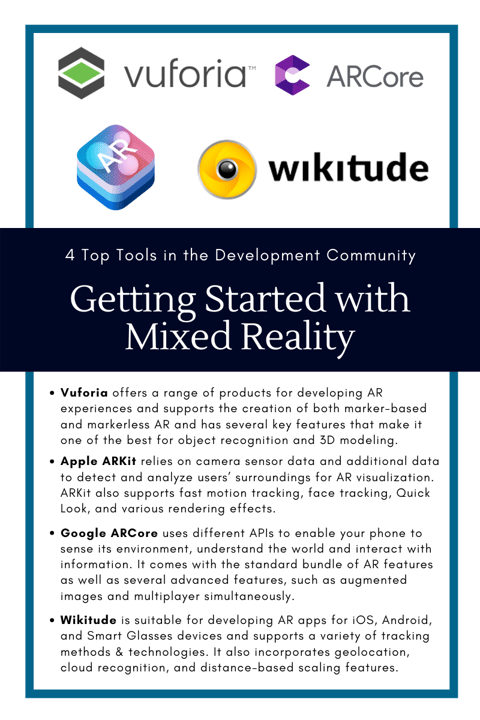 AR SDKs (Software Development Kits) are essentially a bundle of programs and software used to develop other software. The main advantage of them is that they allow developers to apply time-tested solutions and shortcuts in development, instead of solving all generic and typical problems individually. Below, we explore 4 of the top tools for AR creation that are popular and valued in the AR development community.
All of the aforementioned applications are well-respected among developers, and all of them have their own strengths and weaknesses, which mostly consist of supported and non-supported functions. In order to build your AR application, you should choose the tools that will best correspond to your needs. This means focusing on functionality and ease in development instead of picking the most advertised or flashy software.
If you're new to mixed reality, it's important you start from the bottom and work your way up through its core concepts, experiences, and capabilities. This approach will help you set a firm foundation for designing and developing your own ideas in Mixed Reality. Begin your Mixed Reality journey using the resources we've laid out below:
Finally, if you are hiring a company to develop your AR application, you must make sure that they have the experience necessary to create value and align AR with business goals. Our team is uniquely qualified to handle full-cycle AR development: